Why Service at Stadium Toyota in Tampa, FL
Toyotas are known for their build quality and longevity, so when you buy a Toyota truck, car or SUV from Stadium, you've got a partner for years. But what about Toyota Service? One of the keys to the legendary durability of the Toyota brand is proper and timely maintenance. At Stadium Toyota, we work hard to build lifelong friendships with our customers through comprehensive service offerings performed by our trained professionals. We make it easy too: just schedule an appointment with our service center and come see us!
Find Exemplary Toyota Service at Stadium Toyota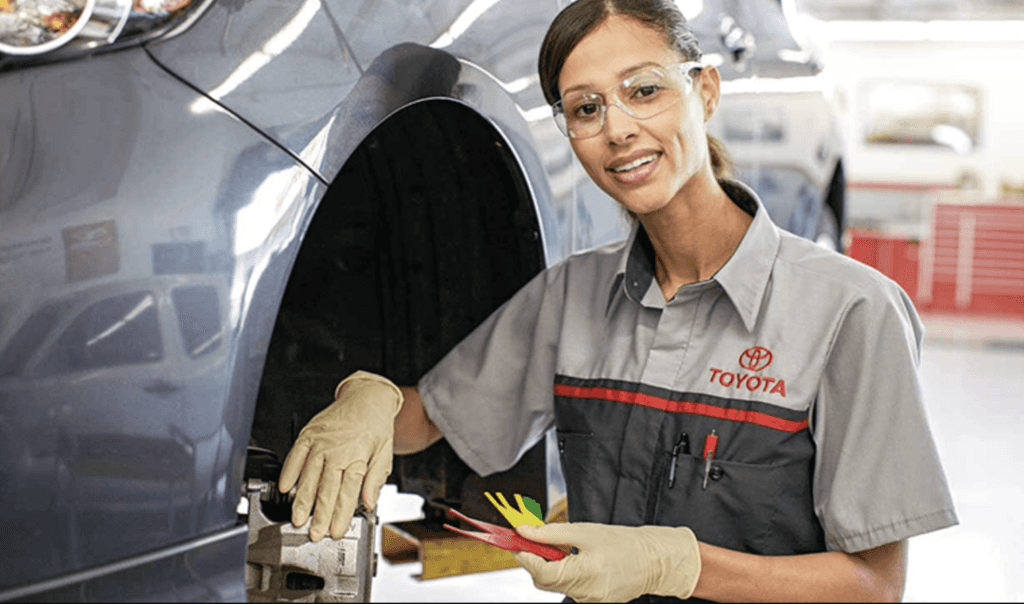 Whether you need to replace your Toyota's oil, fluids, timing belts, or hoses; change or align the tires; or replace or charge your battery; the service center at Stadium Toyota can quickly and easily perform the job. Our technicians are trained and certified to work on Toyota vehicles, so you can trust that we will take care of your investment, as well as get you back on the road safely and quickly. We want to make your wait short and comfortable, so we offer,
Comfortable Lounge Area
Children's Room
Free Wi-Fi
Coffee and Snacks
Shuttle and Valet Services
Don't wait in long lines! We also offer Express Maintenance for quick services, such as oil and filter change, brake inspection, tire rotation, multi-point inspection, and more while you wait in our comfortable lounge. Here are a few services we offer for our Tampa, Wesley Chapel, and surrounding areas customers:
Toyota Parts in Tampa
We use Genuine Toyota Parts to do all Toyota repair jobs, as well as offer a full selection of parts for your DYI needs. Order your Toyota part using our quick and easy online form, and one of friendly and professional technicians will let you know when it arrives at our dealership for pick up!
Stadium Rewards Program
And with our exclusive Stadium Rewards Program, you can redeem free, no-strings-attached points to make continued service on your Toyota easier and even more affordable! If your Toyota Corolla has a knocking in the engine, or your Toyota Camry's tires are due for a rotation, or even your Toyota Tacoma needs a tune-up from the sea air in Tampa, our service technicians will be happy to help. Stadium Toyota's service center is conveniently located at 5088 N Dale Mabry Hwy, just outside downtown Tampa, so come by today!